Quiet // Disquiet please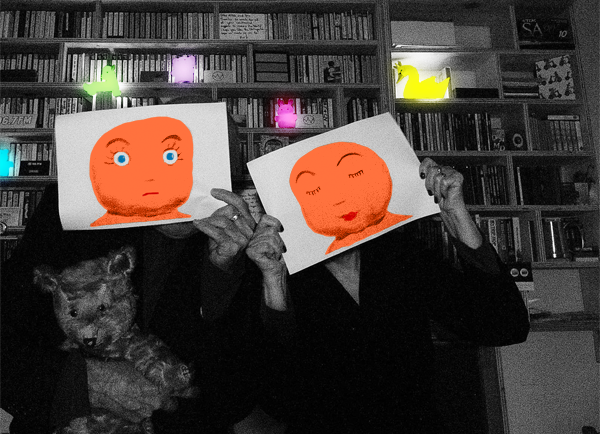 The world gained more plastic-encased magnetic particles this week when my partner and I launched our latest sonic noodles on companion cassettes. Should I parse that sentence for you? We each made an album, they go hand in hand and are collectively known as Quiet // Disquiet.
He is Mitch Jones, and his solo project, the little hand of the faithful, is a bit of a departure from his better known work with Scattered Order, which has been producing experimental music for nigh on 40 years. TLHOTF can at times tread more lightheartedly down the wooden hallways of time (Casio to the rescue). It can also shroud itself in ecstatic, sweeping guitars (A more perfect kind of escape), or take to jazz with a hatchet while riding a runaway piano (No room for muddle). It can be loud, it can definitely be unsettling. That's why this album is called / Disquiet. Perhaps a little listen. This track is called Frozen Charlotte.
I'd attempt to describe the little hand of the faithful as juxtaposing new sound elements with analogue ones, disregarding borders between genres and concentrating on moods, rhythms and cinematic depictions painted with sound rather than light.
The other fat little head engaged in this split release is mine. Though I've worked with Mitch for many years in various ways, this is the first occasion where virtually side by side we've worked at distinctly separate and personal levels. I am indebted to Mitch for his assistance with this work in countless ways, but particularly for his beautiful and sensitive mixes.
I tend to concentrate on the small sounds, because they fascinate me, and I'm always attracted to their ability to speak volumes if they're allowed to. On Quiet / I hope I've achieved a bit of that. There's also a little of my voice on several tracks, something I'm very shy about.
When I work, I'm often seated as I am just now watching bird life being lived outside my window. Today, freezing and sunny, there's a male and female satin bowerbird: shy, quite large creatures. He's blue-black and magnificently lustered; she's dressed in Australian bush shades of green, yellow and brown, her undersides like the marbled end papers of an Edwardian book. He builds those fabled bowers strewn with blue mementos. She watches while he presents her with the curious sounds of dozens of other birds, but also lawn mowers, chainsaws and car alarms, and does some pretty fancy dancing. Then she decides if she can take him or leave him.
Why do I tell you that? Because I think Quiet // Disquiet is full of little intimacies, strange passions and symphonic moments, fleeting glimpses of stories wanting to be told, if anyone wants to listen.